Why use air showers
Air showers are used to rid people of dust or other particles (decontamination) that are present on them using high-speed air blowing. These devices are used for personnel access to sensitive areas, called cleanrooms or dust controlled areas (DCAs) in various industries:
Automotive for painting units
Electronics
Optics
Agri-food
Pharmacy
Cosmetics
Industrial paint installation
The staff wear an antistatic suit in a changing room or airlock located at the entrance of the air shower. As soon as they enter the air shower, the blower is switched on automatically. Both doors are locked during the blowing process.
At the end of the process, the exit door is unlocked, and the staff can access the cleanroom. When exiting the cleanroom, the personnel passes through the air shower again, with or without ventilation. Both doors cannot be opened at the same time.
Size of standard air showers
1-2 persons, available from stock
Interior: approx. 1m X 1m, height 2m
Exterior: approx. 1.2m X 1.6m X 2.1m
Other dimensions are also available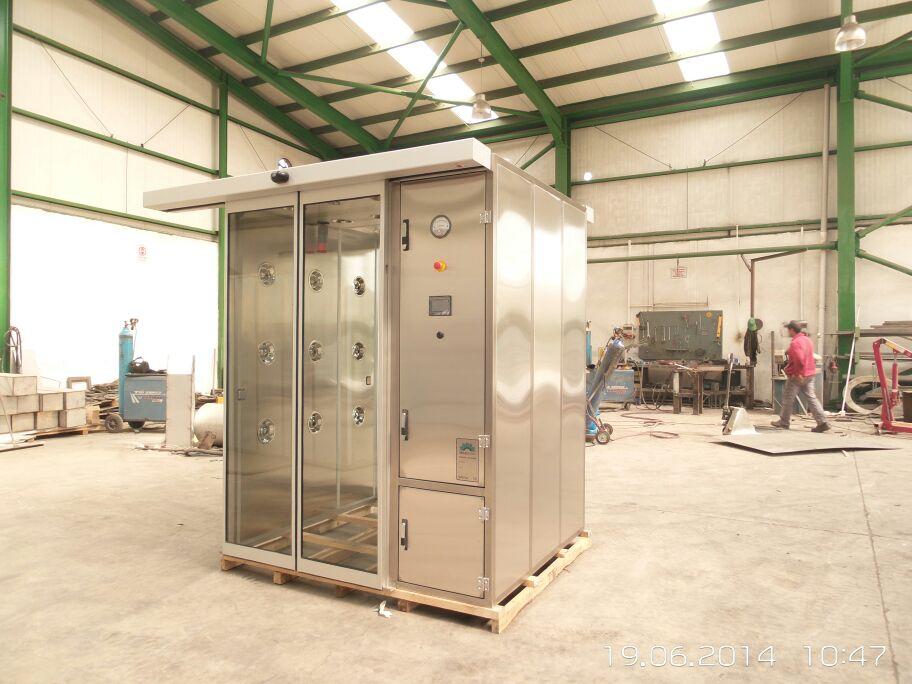 Decontamination process options :
Blowing when entering the cleanroom
Blowing when leaving the cleanroom
Blowing in and out of the cleanroom
Stainless steel construction
HEPA final filtration
Door locking by electromagnet
Process managed by PLC and HMI
3 emergency stop buttons
Standard reversible doors
Do not hesitate to contact us.